Schedule your BBL and Halo Laser Consultation Today!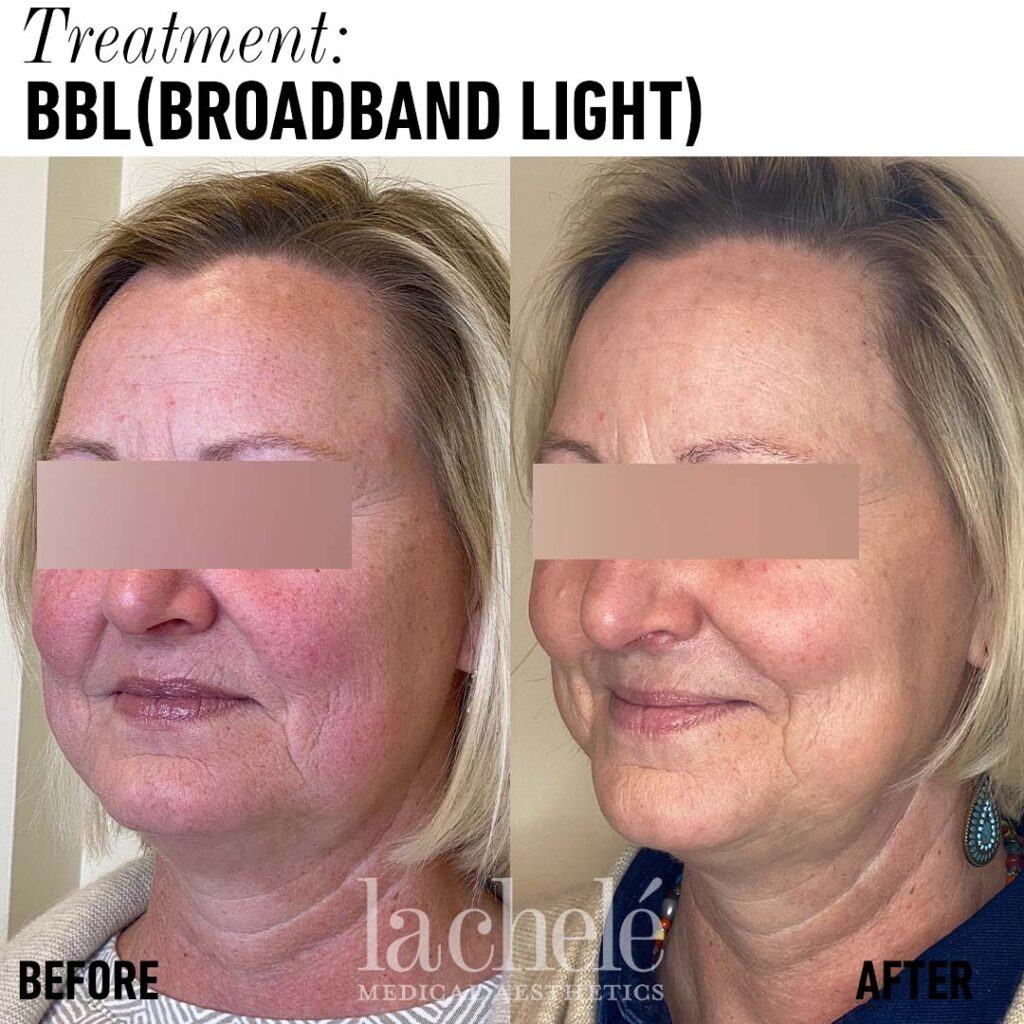 Sciton BBL and Halo Laser Treatment
What is Sciton BBL (BroadBand Light) Therapy?

Broadband Light, also known as BBL, IPL, or Photofacial, is clinically proven to treat a wide range of skin concerns such as rosacea, broken capillaries, hyperpigmentation (sun spots and age spots), uneven texture, acne, fine lines and wrinkles. BBL also is preventative against the signs of aging!
The light energy delivered by the BBL will heat up the upper layers of the skin. This heat will stimulate cells to regenerate in the areas that are targeted by the BBL. This corrective process in turn will help the skin to look younger, and more youthful by making it clearer, smoother, and more vibrant. The BBL can be used to treat numerous skin conditions including age spots, and small facial veins.  The sensation of the BBL laser is best compared to a quick "rubber band-like" snap. There is little downtime associated with this treatment.
BBL has three steps that are customized to best treat each individual patient need. In a clinical study at Stanford University 15 patients were studied over a course of 5-11 years and were treating with 1 BBL per year. The study found that the patient's skin looked at least 10 years younger than its actual age.
How long after BBL laser will I see results? 
Patients will be able to appreciate some results in as little as two weeks after their initial treatment. Most patients will see optimal results after a series of 3 treatments. At your complimentary consultation with our Medical Providers, we will perform a skin analysis to determine how many sessions are right for you.
What is Sciton Halo?
Sciton HALO The Halo Laser is a leading-edge fractional hybrid laser that is used to treat and minimize the appearance of sun damage, hyperpigmentation, fine lines, wrinkles and other signs of aging. While BBL is able to target these skin concerns at a more superficial level the Halo is able to penetrate deeper into the dermis.
The treatment achieves this goal by penetrating the skin by use of a fractionated laser to target the deepest dermal layers; this results in stimulated collagen production, which helps speed up cellular turnover. Thanks to new tissue regrowth, patients can expect a younger, firmer, and clearer complexion.
The Halo laser can be used to treat multiple different skin conditions including dyschromia, pores, wrinkles around the eyes, and deep wrinkles. The Halo targets visual signs of sun damage in addition to damage that cannot be seen – hitting all layers of the dermis. While the best results can be seen when used on the chest, face, and neck, it can also be used to treat the hands and arms. Due to a constant temperature monitoring system installed in the device, the Halo treatment is more tolerable and comfortable than others of its type. This also allows for the most accurate treatment.
What is Sciton laser resurfacing?
Sciton laser resurfacing is used to reverse skin damage done by age and sun damage, and restore skin back to its younger, healthier version. A laser beam is scanned across the treatment area and removes the top layer of skin safely. The body then regenerates a healthy layer of skin allowing the face to look more youthful. The body also generates new collagen formation which helps make the skin look tighter. Depending on the damage to skin, the treatment can range from shallow superficial peels to deep resurfacing treatment.
What is the Forever Young treatment?
The Forever Young is a treatment involving multiple passes on the skin. It is a preventative treatment to address wrinkles and fine lines, along with lax skin. Forever Young is used to regenerate new skin cells, along with targeting pigmentation like brown and red spots. This treatment is great for those with an active lifestyle as there is minimal downtime. It's the ultimate treatment to overall clear your complexion with one of the most advanced state-of-the-art technology there is to offer in aesthetic lasers.
What type of laser is Sciton? 
Halo and BBL use two different technologies to use combination therapy for outstanding results! The BBL hand piece uses intense pulse light (IPL) therapy to target browns, reds, fine lines and wrinkles. The Halo hand piece is a fractionated laser that creates micro channels into the dermis to stimulate collagen and target deeper pigmentation and wrinkles.
Can I wear makeup after Halo Laser? 
You should refrain from wearing makeup post-treatment for 48 hours following your treatment.
How to Prepare for Halo Laser Treatment? 
We recommend staying out of the sun for two weeks pre-treatment. Do not use retinol or salicylic acid for 1 week pre-treatment. If you have melasma or are a darker skin type, we ask that you treat with hydroquinone for one week pre-treatment.
How often can you do Halo Laser? 
We space out your treatments 1 month apart from each other.
Why La Chele?
Our Medical Providers and Medical Aestheticians are incredibly experienced and trained by the world-renowned Dr. Lisa Espinoza. Our team at La Chele has been leading in the industry since the beginning of aesthetics. We continue to pioneer the way for new techniques, combination treatments, services, and advanced care. Each of our treatments are customizable, and our comprehensive consultations are unlike any other, where you will go home with a custom treatment plan formulated just for you.
Call La Chele Medical Aesthetics today to book your complimentary consultation to see if BBL or Halo is right for you at 215-862-6100!