Schedule your Forever Young BBL Consultation Today!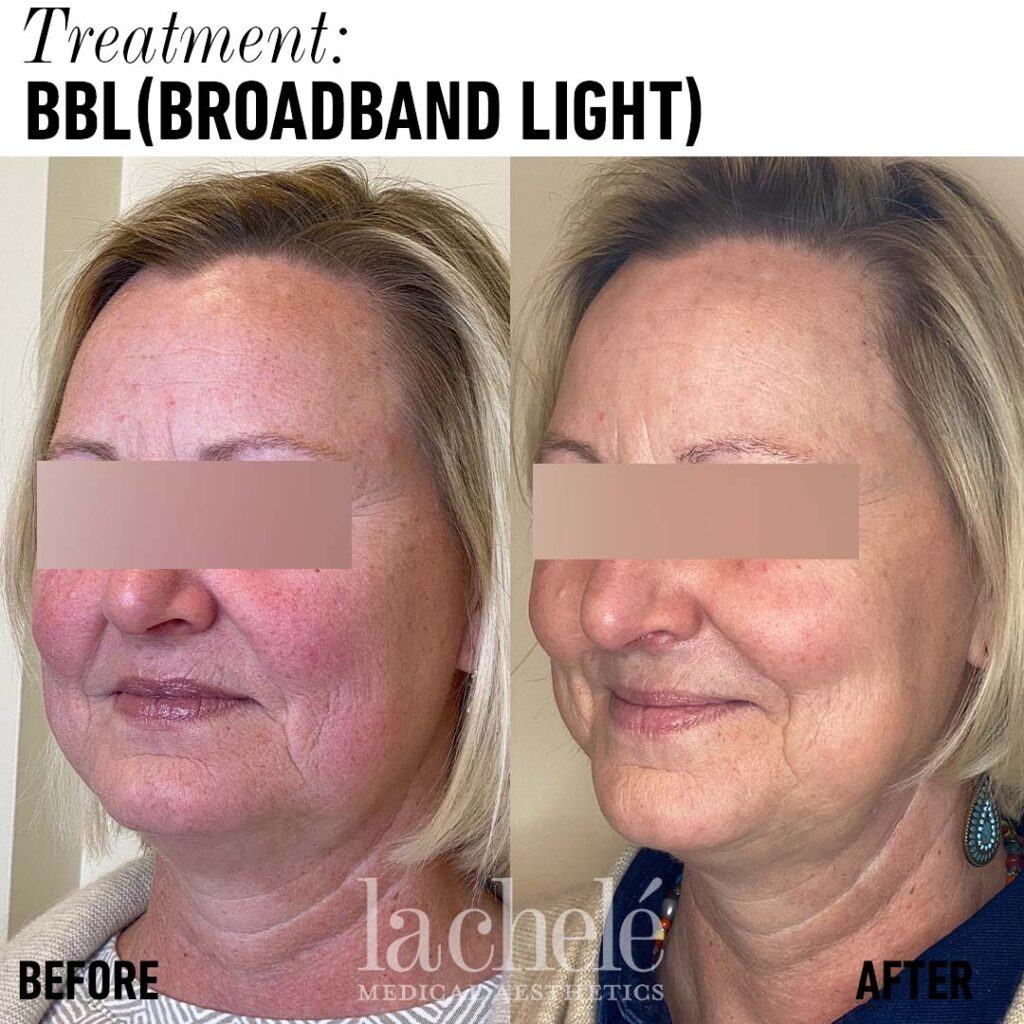 Forever Young BBL Laser Treatment
What is Forever Young BBL (BroadBand Light) Therapy?
Broadband Light, also known as BBL, IPL, or Photofacial, is clinically proven to treat a wide range of skin concerns such as rosacea, broken capillaries, hyperpigmentation (sun spots and age spots), uneven texture, acne, fine lines and wrinkles. BBL also is preventative against the signs of aging!
The light energy delivered by the BBL will heat up the upper layers of the skin. This heat will stimulate cells to regenerate in the areas that are targeted by the BBL. This corrective process in turn will help the skin to look younger, and more youthful by making it clearer, smoother, and more vibrant. The BBL can be used to treat numerous skin conditions including age spots, and small facial veins.  The sensation of the BBL laser is best compared to a quick "rubber band-like" snap. There is little downtime associated with this treatment.
BBL has three steps that are customized to best treat each individual patient need. In a clinical study at Stanford University 15 patients were studied over a course of 5-11 years and were treating with 1 BBL per year. The study found that the patient's skin looked at least 10 years younger than its actual age.
How do I know if BBL is for me?
Our Medical Providers are highly trained on BBL and have been operating various advanced lasers at the most advanced techniques for over a decade. Our laser technicians are the best in the biz! They are highly trained to determine treatment depths and settings for ultimate results. Settings and technique are everything when it comes to your treatment results, so make sure you choose a facility with experienced treatment Providers when seeking a Forever Young BBL treatment!
What if just certain spots on my face or body need to be treated?
We can spot-treat, but for best results we recommend treating the entire area. We want you to have a uniform, cohesive, cosmetic result. With BBL we can also stimulate collagen, and with collagenases there are anti-aging benefits as well.
How long after BBL laser will I see results?
Patients will be able to appreciate some results in as little as two weeks after their initial treatment with results more finalized at one month. Most patients will see optimal results after a series of 3 treatments. At your complimentary consultation with our Medical Providers, we will perform a skin analysis to determine how many sessions are right for you.
How often should I treat with BBL?
BBL treatment can be done every month! For best-practices, we recommend a series of 3 treatments spaced one month apart, then at least one BBL per season to keep collagen repairing and to keep your complexion clear.
At what age should I start treating with BBLs?
BBL is a wonderful preventative treatment, so the younger you start, the better! It's great for clearing pigmentation and building collagen at an early age, along with targeting rosacea.
Is BBL safe?
When you clear out sun damage, we actually have the opportunity to help clear out sun damage. When you treat annually with BBL or light-based treatments, we can reduce your risk of skin cancer. That's a double-win!
Can you treat my body with BBL?
Yes! We offer the BBL Hero which is an upgrade to the system which allows us to treat your entire body rapidly! With this treatment we can offer 2x the cooling for comfortable treatment. The passes can be performed at 4 times the speed of a typical laser used for body pigmentation.
Why La Chelé?
Our Medical Providers and Medical Laser Specialists are incredibly experienced and trained by the world-renowned Dr. Lisa Espinoza. Our team at La Chelé has been leading in the industry since the beginning of aesthetics due to the sheer volume of procedures and combined years of experience each laser technician has. We continue to pioneer the way for new techniques, combination treatments, services, and advanced care. Each of our treatments are customizable, and our comprehensive consultations are unlike any other, where you will go home with a custom treatment plan formulated just for you.
Call La Chelé Medical Aesthetics today to book your complimentary consultation to see if BBL or Halo is right for you at 215-862-6100!